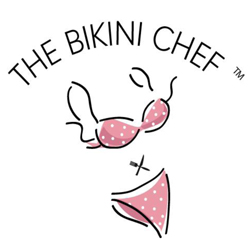 The Bikini Chef® brand was created by Susan Irby, a Certified Fitness Nutrition Specialist and Certified Food Healer.  Susan is the creator of the concept, recipes, and content behind the brand which promotes living well through fitness and "figure flattering flavors". 
What began as a cute, catchy nickname after sharing family stories of cooking on the lake in their bathing suits, The Bikini Chef® name has grown into a brand representing health and wellness.
The Bikini Chef® leads by example proving that "healthy" foods taste GOOD, cooking "healthy" is FUN, and and exercise is COOL! Eating carrot sticks all day and killing yourself at the gym is not The Bikini Chef® way. Enjoying life, eating delicious, fresh foods, having fun with family and friends… THAT'S more like it! A healthy "bikini" body is attainable, whether you want to wear a bikini or not.
The Bikini Chef® is author of 9 books including Substitute Yourself Skinny, Boost Your Metabolism, The Complete Idiot's Guide Quinoa Cookbook, and most recently, The Bikini Chef® Diet and 30-Day Bikini Body Challenge.
Visit thebikinichef.com for full details