In a fast becoming crowded television culinary scene, in 2001, breakout culinary sensation, Susan Irby, turned to radio to launch her first culinary themed broadcast focused on fun, family-oriented recipes with Bikini Cooking with Susan™.
Her first guest was Larry Romano who played Richie Ianucchi on the hit show, King of Queens, and cast members were Elina Madison who has starred in many feature films including The Black Tape, Jillian Clare who went on to play Abigail "Abby" Deveraux on Days of our Lives, Shannon Wise as Cabana Man Shan, and Snuggy Bear, created by Dave Shelton, was the original show mascot.
In 2004, Bikini Cooking with Susan™ radio show was picked up by KLAC AM 570 and re-named What's Cookin' with Susan. Right before the inaugural broadcast, Clear Channel owners designated KLAC as an all-sports station and the show fell dark until June 7, 2009 when it aired as a 1/2-hour program on KTLK AM-1150, another Clear Channel station. Creator, producer, and host, Susan Irby, was joined by co-hosts, Denice Fladeboe who was President of Fladeboe Automotive Group of Irvine, the show's title sponsor, and best-selling author, Kelly E. Carter. Six months after the show began, it was expanded to a one-hour format and moved to KLAC.
In 2011, the show moved to Talk Radio 790 KABC and Susan re-named the show The Bikini Lifestyles® Show because she determined that the name "What's Cookin' with Susan" did not adequately describe the healthy lifestyle of both lower fat, lower calorie recipes and regular fitness activities that Susan shares with her audience daily.   Replacing Kelly E. Carter as co-host of the show was famed LA publicist, Steve Valentine of Valentine Group LA PR.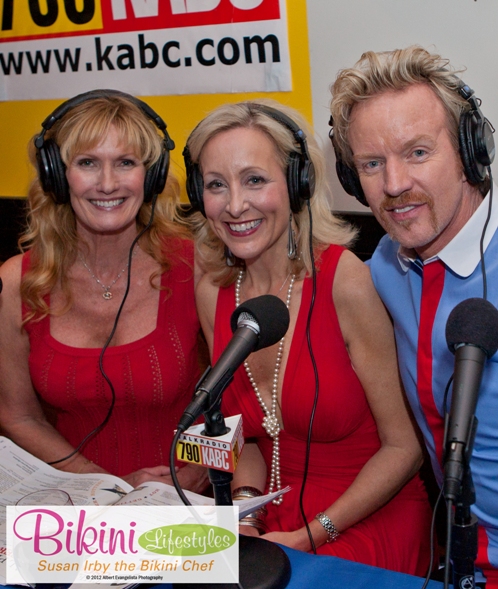 After 2 years on the show, Steve left to focus solely on PR
and the key hosts remained, Susan Irby with co-host,
Denice Fladeboe.
The Bikini Lifestyles® Show grew and Susan added the tagline, "Where we Wine, Dine and Workout" to easily describe the mission and objective of the show. Over the years, guests have included All-Pro football player Tony Gonzales, tennis pro Venus Williams, culinary icons such as Wolfgang Puck, Nancy Silverton, Barbara Fairchild, Sara Moulton, Giada Delaurentiis, and Patina Restaurant Group founder, Joachim Splichal, and celebrities such as Bill Engvall and rock legends, Gene Simmons and Def Leppard lead guitarist, Phil Collen.
The Bikini Lifestyles® television show aired on PBS stations nationwide in 2012 and was awarded The TASTE Award for "Best Health and Fitness" television program in its inaugural season. Creator, producer and host, Susan Irby was joined by co-hosts Denice Fladeboe and Steve Valentine. The "Wine, Dine, and Workout" format proved a fun, entertaining and informative format for viewers having drawn comments from medical professionals such as "refreshing to see a fun show combining good health and fitness with healthier recipes".