A New Chapter
The Bikini Lifestyles Show aired on Talk Radio 790 KABC. For over five years, my co-host, Denice Fladeboe, and I along with our stellar guests filled the airwaves with laughter, shared triumphs and challenges, and eagerly chatted about the latest tips and trends from noted chefs, fitness experts, health professionals and celebrities.
The Bikini Lifestyles Show grew out of my passion for food, wine, and living life to the fullest. I love people. Getting to know listeners, fans, and our wonderful show and guests brought such joy and happiness to my life and it is my hope that in enjoying the show and podcast, I, and my show co-hosts, brought joy to yours.
In the beginning, before The Bikini Lifestyles Show came to be, back in 1999, I had always envisioned hosting a food show on the radio. Radio is simpler than television yet requires a unique way of connecting with audiences. One person that greatly influenced my life was not on the radio but connected with his audience through writing and through his warm, kind personality. My grandfather, William "Bill" Irby. He was a well loved and respected writer, editor, and at one point in his life, he was an amateur pro boxer, sparring with boxing greats like James Braddock. He, too, loved people and chose raising a family and appealing to his more humoristic, creative side to go into writing,that he gave up his boxing career. Much of what I am passionate about, I attribute him.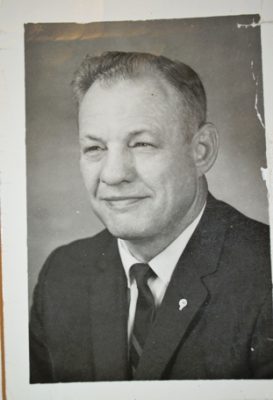 When I was a kid, about two years old, Uncle Bill, as I called him, would take me in to the kitchens at restaurants to introduce me to the chefs. To this day, I am fascinated by meeting the chefs, touring the kitchens, seeing the behind the scenes work space and intricacies of chef's kitchens. Big or small, no two kitchens are alike. No two cuisines the same. Each, like a home, has a unique story to tell through both the people and the food. As guests, you get to experience a slice of life emitted from the kitchen. Some experiences are great. Some are not. But, each story told through the food is one of individual brilliance. Those memories stick with me and I carry them with me in each interview I do, each story I write, and each recipe I create.
Bill was also an interesting writer. He brought humor and passion to his tales which every one loved. He wrote a weekly column for the newspaper. He wrote features for magazines and other publications. He loved people and found joy in getting to know them, making them laugh, or sharing in their joy. It was a sad day when his life was taken too soon in a tragic accident. But powerful and gracious is the impact he had on my life and that I am blessed to carry forward daily.
Another person that has deeply molded my passion for food and curiosity for life is my mother. My mother, too, is a person filled with vigor and passion which shines through in every area of her life. I guess you could say we are a passionate family for each of us, my dad, brother, and sister, too, each love life and are fast at work making our stamp on the world.


Of the many things my mother has taught me is a respect and appreciation for ingredients. Not just food but the ingredients themselves. She focused every one of our meals around nutritious and flavorful ingredients. We always had an array of colorful foods on our plates. Freshly prepared, always, never frozen out of a box and rarely picked up at a fast food restaurant, my mother prepared three healthy meals a day for our family of five day after day, year after year. "A colorful plate," she said, "is a healthy plate." And she is right. She was and is always right. She is mom.
My mom majored in nutrition and home economics so cooking and family was a passion of hers. I wish I could boast that I cooked with her all the time in the kitchen, but mostly I just watched her masterfully at work. Knowing now, through running my own household, what it took for her to be a mom, a wife, a school teacher, and run a household where us kids rarely helped out, I have a renewed respect for her tremendous efforts, energy and occasional meltdowns. She never complained and welcomed friends and strangers with open arms, feeding them along the way. I did learn a lot about cooking and essential ingredients from observing my mom. I was like a sponge soaking it all in and the knowledge absorbed and became a passion I never knew I had. Until I left home for college. In college and to this very day, I have become known as the girl who can whip up a good meal out of seemingly nothing. Creativity, passion, a love of people, life, and food all blend into one and form the foundation for the woman I am today. Writing recipes is a natural for me. I envision the ingredients and picture the final dish as I'd like it to be. My glands salivate as I taste the flavors through my mind. Then, I cook. And I have trained myself to write down the ingredients along the way so I can share my creations with you. It's fun. It makes me happy. Even when the recipe doesn't come out exactly the way I envisioned and I must go back into my "lab" and try again.
My culinary passion also became a way to relieve stress from a corporate job and the end result was I wrote a cookbook. The famous "they" say to "do what you know". I knew how to write and I knew how to cook. I self-published my first book realizing I was a no-name and not likely to get published right away. After publishing and creating my own book tour, my culinary career began. Along the way, my passion for media connected with my culinary dots and the food radio show was born. But it would be nearly ten years before it hit the airwaves.
Bikini Cooking with Susan was the original title of the show and had an all-star cast complete with bikini dancers, a cabana boy, and a mascot. I even had a theme song written that had a rock 'n roll surf feel that stunned most who had their own vision for the show. Soon, KLAC in Los Angeles had picked up my show! It was to be a scaled down version of my original concept featuring only me as the host. The week before we were to launch, KLAC became an all sports station with no need for a food show. I got discouraged and gave up. But, as passionate people know, passion never dies. It only finds more fuel.
In 2009, the show got a new name, What's Cooking with Susan, and a new sponsor, Fladeboe Automotive Group of Irvine.  ON June 9, 2009,  the first episode aired on KTLK AM 1150 and grew to a larger format and a larger station, KFWB News Talk 980, within six short months. The show later became The Bikini Lifestyles Show airing on Talk Radio 790 KABC.
During the five years on the air, I had the privilege of interviewing so many wonderful, giving, and interesting people. It would be like naming a favorite child to say which guest I enjoyed the most but some of the most memorable moments were with belly dancers, drum players, and who could forget the bacon vodka, a few bikini clad guests, and the Halloween show one season when co-host, Steve Valentine came dressed as the high heel wearing, Capri pant donning, pink loving The Bikini Chef. Week after week, recipe after recipe, guest after guest, we sought to entertain and inform and loved every moment of it. As one listener put it, "You have brought joy and marvelous information with your focus on happy/healthy
lifestyles to me for so long", she shared. "I am usually preparing late Saturday night suppers at that time and
you have certainly become a habit with me." Karlon, we loved it. I loved it. I loved our audience and cherished every comment, every email, every fan and will hold those memories with me forever.
Thank you, LA, and those around the world for sharing your life with me, for being a part of a season of my life so near and dear to my heart.
Now, the next chapter begins! Keep listening to the podcasts which will live forever online. Keep visiting bikinilifestyles.com as I post new articles, live audio interviews with chefs and experts from my travels and adventures visiting farms, restaurants, speaking with health experts and more wonderful people – like YOU! Keep visting thebikinichef.com for new recipes, health tips and my newest books.
I hope you will join me on the next adventure… I promise it will be fun, informative and will help you live the healthy lifestyle!
Sending gourmet wishes and flattering waistlines!